Old Fashioned Superstition by Jensen Tjhung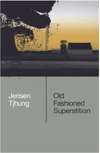 "Man, I've done that trip... For me it's scattered across decades and diaries and cut up memory flashes! I tried to compile it all but couldn't... I thought it was lost... a unique fantastic experience that me and my band mates will take to our graves. I read this and realise it's not lost! I read this and while everything in it is different, it validates everything I once knew and now still know!"
– Kim Salmon (Scientists, Surrealists, Beasts Of Bourbon)
In 2018, the troubled and much mythicized Melbourne punks Deaf Wish embarked on their 6th international tour to support their 5th LP "Lithium Zion" released on Sub Pop records. From notes written over the 36,000 odd miles across the USA, band member Jensen Tjhung re-traces the worn friendships, fear and sadness of a spell finally broken as the band hurtled itself towards its final implosion.
Both delicate and frenzied, these are Tjhung's fragmented and delusional prophesies - where we find vagabond soothsayers, football gods and restroom cowboys in the only place they can ever meet: on the road and out of time.
JENSEN TJHUNG was born in 1980, and grew up in the southern suburbs of Perth, Western Australia. In 1999, he moved to Melbourne where he lives and works today. His contribution to music includes bands Deaf Wish, Lower Plenty, Exhaustion and Golden Scalpel among others. Old Fashioned Superstition is his first book, and he's our downunder distributor.